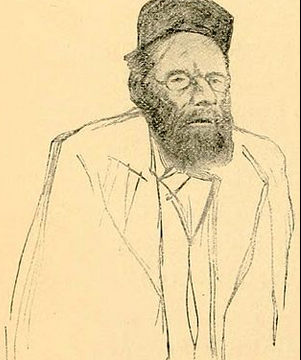 Drawing by Jacob Epstein for Hutchins Hapgood, The Spirit of the Ghetto : Studies of the Jewish Quarter in New York
Born in Vilna in 1841, Elyokem Tsunzer was the son of a poor but pious carpenter. Apprenticed to a gold weaver at age six, when his master refused to pay his wages at the end of his apprenticeship, Tsunzer took to the road. He began reading Hebrew books for their poetry and was soon hired as a teacher to an innkeeper's family but, once again, he was betrayed: not wanting to pay Tsunzer the wages owed him, the innkeeper denounced him to a government official, saying that, at age thirteen, he was fit to be a soldier in the Russian Imperial Army. Both he and his brother were conscripted. His brother never returned, and Tsunzer was released after Alexander II's liberalisation of the draft.
He returned to weaving gold lace but soon discovered a talent for creating catchy tunes and poems with extensive references to the Talmud. Seeing how these songs pleased all who heard them, he forgot about gold lace and become a professional wedding entertainer, a badkhn. His fame spread quickly — he could improvise rhymed speeches for over an hour without stopping — and was soon performing at weddings once or twice each day, and travelling as far as Warsaw and Saint Petersburg.
Eventually, influenced by the Haskalah (the Jewish Enlightenment) Tsunzer began criticizing Jewish religious orthodoxy, backwardness, insularity, and the obsession with money:
From the mountain and the earth, you come here
And want to be man's pride
You make him small, you make him big
You make him cheap, you make him fine
And wherever people go, whatever they say
You are always in the middle of it.
After witnessing the pogroms following the tsar's assassination, his songs changed. He warned of too much modernization, of too much confidence in Russia. Jews must become agriculturalists, he said. They had to train their sights on Zion where they could —
…sow and reap merrily,
Free in God's world
When his wife and many children died in an epidemic, Tsunzer decided to leave Russia. Although dreaming of immigrating to Palestine, he felt too old to do so and, in 1889, he came to America. Managed by an impresario, he toured the country, singing songs urging Jews to give up peddling, and take up the offers of free land for those wishing to farm.
In 1894, he settled permanently on New York's lower east side with his second wife. Still respected, still honoured, he found it difficult to adjust to life in America: his glorious muse had always been the Old Country. In New York, socialist and anarchist political fervour jogged alongside show business ambition, and theatre stardom, and an old-world badkhn was an out-of-date figure. The spokesmen now were The Sweatshop Poets, men who worked as tailors, buttonhole makers and cutters during the day, and wrote at night. Morris Rosenfeld, Morris Winchevsky, David Edelstadt, Michael Kaplan, Abraham Wald, and Joseph Bovshover had all been born in the Russian Pale, had all run from pogroms, Talmudic orthodoxy, and the Russian draft. They sang of the New World's problems: the slum's crushed souls, the exploiters who ran the factories, the sad immigrants who were unable to take root in foreign soil. One such poet, David Edelstadt, spread anarchist propaganda until, contracting tuberculosis in the sweatshop, he died at age twenty-six:
You may destroy us, tyrants! 'Twill be vain.
Time will bring on new fighters strong as we;
For we shall battle ever, on and on,
Nor cease to strive till all the world is free!
Soon enough, The Sweatshop Poets were also replaced, for this was the jumpy new world in which everything picked up speed. Yiddish Art Song was written by immigrants who sought to create art for art's sake, without moralizing, sentimentality and propagandizing.
To keep the wolf from the door, Tsunzer opened a printing shop and received the curious who came to gape at him, the old performing Jew, the jester, as described by Hutchins Hapgood in, The Spirit of the Ghetto : Studies of the Jewish Quarter in New York:
Adjoining the office is another room, in which he lives with his wife and several children. The stove, the dining table, the beds, are all in the same room, which is bare and chill. But the poet is hospitable, and to the guests, he offered cake and a bottle of sarsaparilla. Far more delightful, however, the old man read some of his poems aloud. As he read in a chanting tone, he swayed gently backwards and forwards, unconscious of his visitors, absorbed in the rhythm and feeling of the song…He was apparently not conscious of the possession of unusual power. Famous as he is, there was no sense of it in his bearing.
The printing enterprise failed, and although Tsunzer continued to write his poems, he was only saved from penury with a pension raised by Avrom Goldfaden for his benefit. Ill, still lost in a world in which he had no place, he died in 1913.