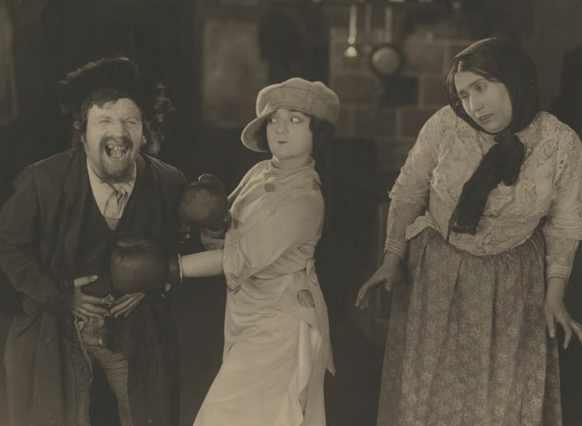 In 1661, the Jewish Council of Vilna issued a decree banning merry-making fire dances, plays, and masquerades although the badkhonim (wedding jesters) were allowed to continue their acts during marriage ceremonies. Theatrical performances were limited to the Purim festivities that took place once a year, and biblical episodes were acted out by students, artisans, beggars, or professional players. These Purimshpiln (Purim plays) came to incorporated comic elements: caricatures of community members, erotic allusions, songs, and dances in the tradition of mummers and carollers. Masks were donned and performers "changed" their identity, although this contravened Jewish law and tradition. To the Orthodox, such performances were sinful; Jews were to restrict themselves to songs of devotion and exaltation, men were forbidden to dress as women or to wear masks, and a woman's voice was never to be raised in song
In the 19th century, the town of Brody on the border between Austrian Galicia and the Russian Empire was a lively hotbed of spies, black market traders, draft dodgers, and rebels. It was also where merchants heading on to the German markets stopped for the night. To gain their custom, innkeepers offered entertainment — magicians, acrobats, moth-eaten trained bears, and sad marmots. One apprentice baker, Yakova Dubinsky, thought these meagre acts could be improved upon — he had done military service in Vienna, and while there, had seen cabaret theatre. Why didn't Galician Jews have something so wonderful? Donning sheepskins and blackening his face, he was soon performing song and dance routines in Brody's inns and cafés. The act caught on, but it was the folk poet Berl Broder who made such routines famous.
Broder was employed in a Brody brush factory and, teaching himself to play the violin, he amused fellow toilers with rhymes, songs, and imitations during working hours. He later hit the road as a travelling salesman, and in the inns where he passed the night, he drank heavily and kept up the show. How everyone howled at his grimacing, whining shepherds, lonely night watchmen, and lamenting water carriers!
In 1857, he gave up on brushes, and with two singers — a cantor, and a tailor who doubled as costumier — and became a professional entertainer. He was soon being copied by other players or Broderzinger (Brody Singers — the name became generic) who smeared their faces with soot, donned wigs and comic costumes, sang, and danced in wine gardens and inns throughout Eastern Europe.
However, formal theatre had yet to be created. In the eighteenth century, German maskilim Aaron Halle-Wolfson and Yitshak Euchel, and Warsaw-born Solomon Ettinger were writing satirical comedies, but their works, never performed, were only read in literary salons. In 1861, five years after Ettinger's death, his most famous play, Serkele, was finally performed in Russian Zhitomir's teaching seminary: the leading female role was played by a young student named Avrom Goldfaden.
Goldfaden was soon making a name for himself as a songwriter. He settled in Odessa, went to Czernowitz to publish a newspaper. When the paper failed, he headed for Romania to try his luck in that new country. There, he met Broderzinger Israel Grodner, a flexible performer who played many different characters and sang Goldfaden's songs in a theatrical setting with a stage, numbered benches, and printed announcements. In other words, he was a professional.
The two men joined forces. They travelled throughout Romania, took on board hopeful actors — star-struck shopkeepers, servants, singers, badkhonim, musicians, apprentices — and, a radical departure, even employed women for the female roles.
In Goldfaden's productions, characters were caricatures, and songs were a mixture of Polish, Ukrainian and Hasidic chants. Each play did have its own plot, but there was no formal script, and actors had to improvise, but audiences were delighted. As the Yiddish actor David Kessler wrote:
If the Yiddish theatre was amateurish, then the non-Jewish (and I mean the Romanian) was a thousand times more so. And the Romanians knew it… 80% of our audience was non-Jewish.
As Jews began leaving Eastern Europe and heading for London, Vienna, Paris, and America, the many Russian and Romanian actors were with them. The first New York theatre production in Yiddish took place in 1882, and the operetta was Goldfaden's, The Sorceress. No one possessed the original text, so the story was slapped together by those who had either performed it or seen it performed back in Romania. Other productions followed, secular brews of comedy, farce, melodrama, singing, and dancing. The acting was often rowdy, even graceless, scenery was slapdash, there were no directors and, at first, few female actors for no respectable family would permit a daughter to go onstage.
Although these productions were condemned by the Orthodox community, and mocked by the critics and middle-class German Jews, new immigrants were enthusiastic. After a day toiling in sweatshops or peddling, they packed into the theatres, men, women with their babies, whole families, and laughing, cheering, crying with no restraint, they called out to the actors, interrupted performances, noisily purchased soft drinks, candies, and trinkets from the hawkers pushing their way through the crowd.
Yiddish theatre troupes went on the road, and money was pooled so that plays could be produced in immigrant communities. Eventually, all major North American cities had their own Yiddish theatre companies, as did small isolated farming communities out on the prairies.